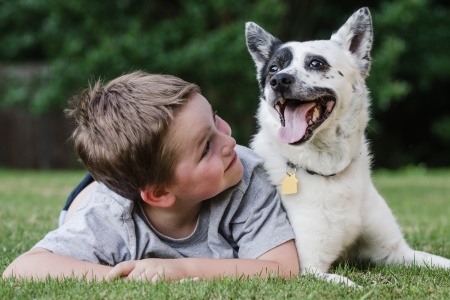 There are plenty of great benefits to owning a pet. For starters, they make great companions and can provide your children with the opportunity to learn responsibility. Dogs especially can make good protectors as well. But did you know that pets also make us happier and healthier?
In a series of studies performed by Allen R. McConnell, Ph.D. and his colleagues, it was found that pets improve the lives of their owners by providing social support. Pet owners who had positive relationships with their friends and families mentioned having just as strong of a relationship with their pet! They often felt a sense of belonging and increased self-esteem, thanks to their furry family member. Pet owners also showed lower rates of depression and stress than non-owners.
And it's not just dogs who are man's best friend – whether you are the proud owner of a dog, cat, horse or lizard, you will feel the benefits of their love and support!
Pets can also provide support for those suffering from high blood pressure or a recent heart attack. Owning a pet is thought to decrease your risk of a heart attack and greatly increases your chances of surviving one. Just the presence of a dog has been shown to decrease an individual's heart rate and blood pressure.
It has also been shown that babies born into families with a dog or cat are less likely to develop allergies and childhood asthma. Pets are thought to protect against illnesses by exposing children to dirt and dander early in life, training their developing immune systems.
Take care of your furry friend just as they care for you. Contact Powell Veterinary Service online or at 970-352-9164 to set up an appointment for an annual check-up today! Located in Kersey, Colorado; we proudly service neighboring areas including Brighton, Greeley, Gilcrest, La Salle, Loveland and Platteville.