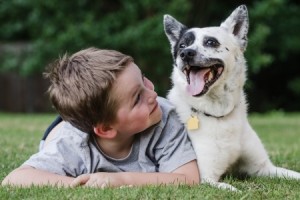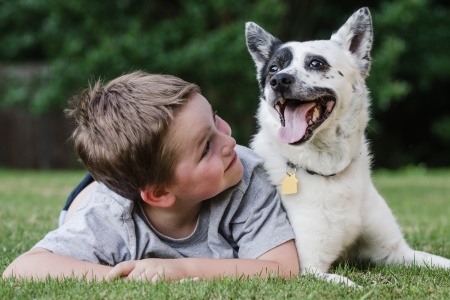 While you are planning a special dinner or delivery for your special Valentine, don't forget your furry four-legged ones. Although a box of chocolates is a no-no and a dozen roses probably won't have the desired impact, there are ways you can show your pets you care, and in doing so, inject a little "feel good" into your own day. Here are a few ideas for making your furry friend feel special on Valentine's Day and throughout the year.
Are there activities that really trip your pup's trigger? Is there a special activity that gets him or her spinning in circles in anticipation? Often, a pet prefers spending quality time with you engaged in a fun activity than a treat or toy. Make sure to include one or more of your furry friend's favorite things to do in your Valentine's Day planning.
How about a walk? This is a great way to spend time with your pup, so give him or her an extra walk or go a couple blocks further. The exercise will do both your hearts good. Make sure to use a halter to reduce the strain on your dog's neck or train your dog to walk on a loose leash. Protect your dog's feet by avoiding hot pavement and wear bright or reflective clothing, especially at night.
Wanna go for a ride? Some dogs just like to go—it doesn't matter where. They feel important to be included. (And it makes getting them in the car when it's time to visit the vet easier.) However, plan ahead. Bring water, a leash, and if you'll need to leave your pup locked in a hot car, leave them home instead.
Go fetch. Nothing like a game of fetch, Frisbee or tug-of-war to get your pup's heart pumping and the love flowing.
Catch that dot. Yes, your cat does love trying to catch that pesky red dot, so get out the flashlight or laser pointer. Just don't shine it directly in your kitty's eyes—or on your partner's bare arm. Kitty claws hurt.
Joy is a new toy or treat. For those pets who focus more on tangible gifts, you have tons of choices. Take a stroll down the pet aisle and choose a durable toy that meets your pet's needs. If your pet likes to cuddle, perhaps a soft plush toy, as long as he or she is over the "shred-every-thing" stage. For chewers, a hard nylon or rubber toy gives their teeth a good workout. Avoid pigs ears, as they are high in fat.   Deer antlers are durable, but they can damage your dog's teeth. Choose something with a little more give, like nylon or rawhide. And if you choose rawhide, choose one that is tough and your dog can't quickly grind it down to nothing. That provides the potential for an intestinal blockage.
For the more intellectual types, choose interactive toys such as treat dispensers, puzzles that require your furry friend to perform an action or automatic ball tossing toys to help you keep up with your dog's incessant desire to fetch.
If your pup lives for treats, make sure to choose ones that are low in fat and have healthy ingredients like healthy oils, meat by products, and vegetable fiber. You can also make your own treats, customized for your dog's needs. If you need some help, check out these recipes.
A place of their own. Show your pet some love in the form of a new bed. Even though your pup or kitty loves spending time with you, sometimes they just need to withdraw to a quiet place of their own–their own den where they can relax undisturbed. Provide an area out of the high traffic areas and include a comfortable bed. You may want to provide a crate and crate training. Many dogs love the seclusion and security provided by a crate, and they will go there when tired, stressed or just need to get away from the busyness of the household. If your dog is getting older, make sure their bed provides enough cushion for their aging joints.
The gift of learning. Dogs and cats are like people—our minds need stimulation or our faculties begin to diminish. In addition to providing interactive toys, teach your dog a new trick or enroll him or her in an obedience class—either to help make them a better canine citizen or to introduce new experiences. If you want to decrease boredom and provide exercise and mental stimulation, try teaching them agility or fly ball.
Share the love. Why not celebrate with a new Valentine? Adopt a new furry friend from your local animal shelter or rescue group. There's an abundance of great animals out there looking for a chance to share their love. Or consider donating to a local animal organization in the name of your favorite Valentine, whether they have 2 legs or 4.
Your fur baby won't love you any more because you do something special for them. Pets only love at one level—full on. But when you're planning something special for that special loved one, don't forget to show your appreciation for your 4-legged ones too.
How do you plan to show your pet some love? Visit our Facebook page and add a comment.